Internet Banking OFX Integration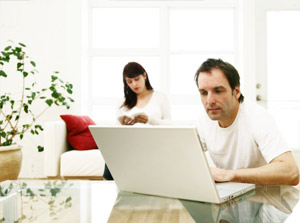 Featuring direct access to Quicken® and QuickBooks® from Intuit, FlexConnect represents unparalleled simplicity for both customer and financial institution. While offering the same functionality found in large regional banks, FlexConnect delivers with the affordability and ease of use requirements of today's community banks. FlexConnect utilizes Intuit's Open Financial Exchange (OFX) standard, supporting a wide range of consumer and small business banking activities.
With a trademarked "Download to Quicken" icon located on the bank's web page, customers import real-time account information directly into their personal financial management software for account reconciliation. Previously, only major financial institutions could justify the large costs associated with OFX connectivity. FlexConnect represents an affordable solution to the community banking industry. Using the Intuit standard, FlexConnect is a community bank's first opportunity to offer seamless data transfer into the most popular personal financial management software available.
Quick Links
FlexConnect Product Sheet