Remote Deposit Capture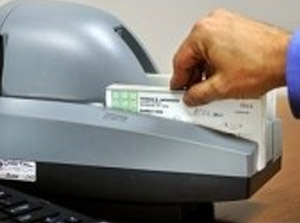 Financial institutions can attract new clients and enter new markets by offering FlexDirect remote deposit from Atris Technology. FlexDirect features simplified check image capture at the client location and performs deposits electronically, delivering convenience and cost savings for valuable corporate and merchant clients. In addition to savings realized with the elimination of physical branch deposits, clients using FlexDirect can receive increased funds availability while reducing the number of returned checks.
Gain new clients – deepen existing relationships.
Leveraging capabilities under Check 21 legislation and image processing efficiencies, FlexDirect users scan checks from their place of business and remotely transmit their deposits to the financial institution using a secure Internet connection. To ensure optimum efficiency for clients, FlexDirect includes image quality analysis to prevent returns, adjustments, and requests for rescans. For large corporate accounts, optional recognition software can be employed to reduce keystrokes when processing for high-volume check depositors.
Eliminate geographic boundaries.
With FlexDirect, financial institutions can reach valuable business accounts outside a traditional brick and mortar footprint. Remote deposits eliminate dependency on lockbox services or courier deliveries to reach physical branch locations.
For corporate accounts with multiple locations, deposits can now be consolidated into a single banking relationship, greatly simplifying their cash management needs. Larger check volumes with FlexDirect can equate to larger account balances, enabling a financial institution to grow its deposit base without building or acquiring new branch locations.
Quick Links
FlexDirect product sheet